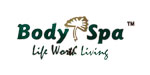 Bodyspa - Spa Franchise
At the Body Spa franchise we inspire guest after guest to comment on their wonderful experience, their moment of bliss.
Finance requirements

Franchise Fee:

Rs. 500,000 and Service Tax

Minimum Investment:

$11,025

Areas Available

New Delhi (North / East / West / Centre) Gurgaon, Greater Noida, Faridabad, Mumbai, Hyderabad, Bangalore, Jaipur, Chandigarh and all metros nationwide.
Profile

 
The BodySpa franchise

While there are many wonderfully designed Spas throughout the world, are they meeting your guest's expectations of service and professionalism? Do they inspire guest after guest to comment on their wonderful experience, their moment of bliss. Sadly, many fall short of this mark that not only results in a lack of financial success, but also wastes valuable management resources alleviating complaints.

When planning to incorporate a Spa facility to your property, ensure that your dream does not fall short of expectations. Ensure the project is not only aesthetic but also operationally functional and offers an exceptional return on investment.

Wholly owned subsidiary of Body Spa International Consultants Pvt. Ltd, incorporated in Singapore is into all aspects of Spa development starting from the initial concept, preferred location and investment warranted, to the actual design, supervision of construction, operations and management.

Be part of the health & Lifestyle business. We introduce new trends among the health conscious society keeping up to international standards & trends in spa lifestyle.

We are driven by the vision of providing holistic healthcare and total body wellness in a luxurious Spa environment where the services will soothe the body, mind and soul, the skin glowing, muscles relaxed, tensions lifted away and internal energy invigorated.

Therapeutic Services:


Body Massages
Body Scrubs / Masques / Wraps
Head & Scalp Treatments
Facial / Beauty Treatments
Maincure / Pedicure / Footcare
Foot Reflexology
Hair Services

Spa Services / Facilities:


Sauna Room
Steam Room
Whirlpool Systems
Vichy Showers
Bath Showers
Changing Rooms
Members' Lounge
Juice Bar / Coffee bar
Treatment Rooms
Gymnasium
Reception / Cashier

Franchising Facts:
Each outlet is envisaged to be a showpiece having a fresh theme and interior, reflecting highest standards of planning, design, quality and construction comparable with the best in the industry internationally incorporating the latest equipment, Hydro-innovation and proven traditional therapies to stimulate the body, mind and soul. 

Franchisor Support:


Spa Design & Construction
Equipment & Technical Specifications
Standard Operating Procedures
Menu Services & Product Specifications
Spa Programmer / Manager
Staff Selection Processes
Staff Training
Brand Building
Spa Maintenance Procedures
Management Procedures
Electronic Billing & IT Support
Pre-Opening Launch
Post-Opening Consultancy
Periodic Services Audit & review.

Benefits Of Joining:


International Spa Chain
Franchiser Support (Pre-launch & Post Launch)
International Service Standards
Professional Staff Training & Certifcation
Proven Spa Therapies
Latest Hydro-Innovations

Option A - Day Spa Rs. 5,000,000
Option B - Club Spa Rs. 10,000,000
Option C - Boutique Spa Rs. 15,000,000
 
Area Required
Day Spa (Option A)   200 sq yd
Club Spa (Option B) 300 - 500 sq yd
Boutique Spa (Option C) 500 - 1000 sq yd
 
ROI: 20% - 30%
 
Location Specification
Lifestyle Malls, Premium Hotels, Luxury / High-rise Apartments, Exclusive Townships, Modern Commercial Complexes, Holiday Resorts, Premium Town Clubs, Domestic/International Airports, MNC In-House Health Clubs, Call Centers
 
Target 
New Delhi (North / East / West / Centre) Gurgaon, Greater Noida, Faridabad, Mumbai, Hyderabad, Bangalore, Jaipur, Chandigarh and all metros nationwide.
 
Franchisee Fee:
Rs. 500,000 and Service Tax
 
Royalty Fees: 
15% of Gross Sales